After rave reviews of a recent batch of peanut butter brownies – I figured I'd share the recipe with you since it isn't a secret or anything. Here is everything you will need!
1/2 cup peanut butter
1/3 cup margarine, soft
2/3 cup white sugar
1/2 cup packed brown sugar
2 eggs
1/2 teaspoon vanilla
1 cup all-purpose flour
1 teaspoon baking powder
1/4 teaspoon salt
5 oz chocolate chips or chunks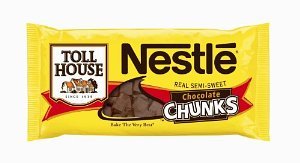 To make them fancy Kara's Cakey Style, you'll also need:
A Bag of Wilton's Peanut Butter Candy Melts and a dollop of Crisco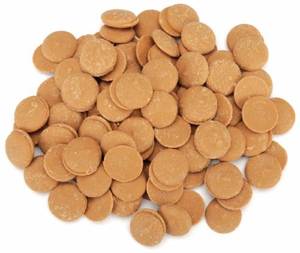 A Wilton Mini-Square Silicone Mold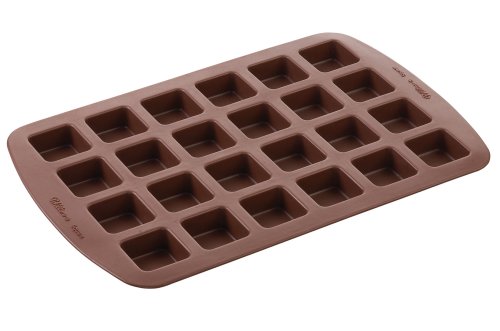 Directions:
1) Preheat oven to 350 F. Lightly spray your silicone mold with baking spray – I use the Pam with the Flour in it.
2) In a bowl, cream together soft margarine and peanut butter. And then add brown sugar, white sugar, eggs and vanilla. Mix thoroughly. In a separate bowl, sift flour, baking powder and salt together. Then add dry ingredients to wet ingredients and mix until well blended. Add chocolate chips or chunks and fold in by hand. You can add more or less – depending on how chocolatey you like it.
3) Bake for 20 – 30 minutes or until the top begins to brown and springs back when touched. You can also use a cake tester to make sure the batter isn't wet. If you like your brownies chewier, you can bake them longer. I left mine in for about 25 minutes.
4) Dump them out onto a lined cookie sheet. You may want to trim them into perfect squares – when they bake, the brownie will rise up over the mold and spread out. I cut the edges off so they looked prettier and neater. If you are just enjoying these at home, this step really doesn't matter.
5) In a microwave safe bowl, dump in a handful of peanut butter melts and about a half a tablespoon of Crisco. Microwave for 30 second intervals, stirring in between. The Crisco will thin the peanut butter melts, making them easier to dip.
6) Dip squares and place on lined baking sheet. After you finish, place the baking sheet in the freezer so the peanut butter coating hardens faster. You can add sprinkles, colored sugars or melt some of the chocolate chips/chunks and add a little chocolate like I did!
7) Enjoy!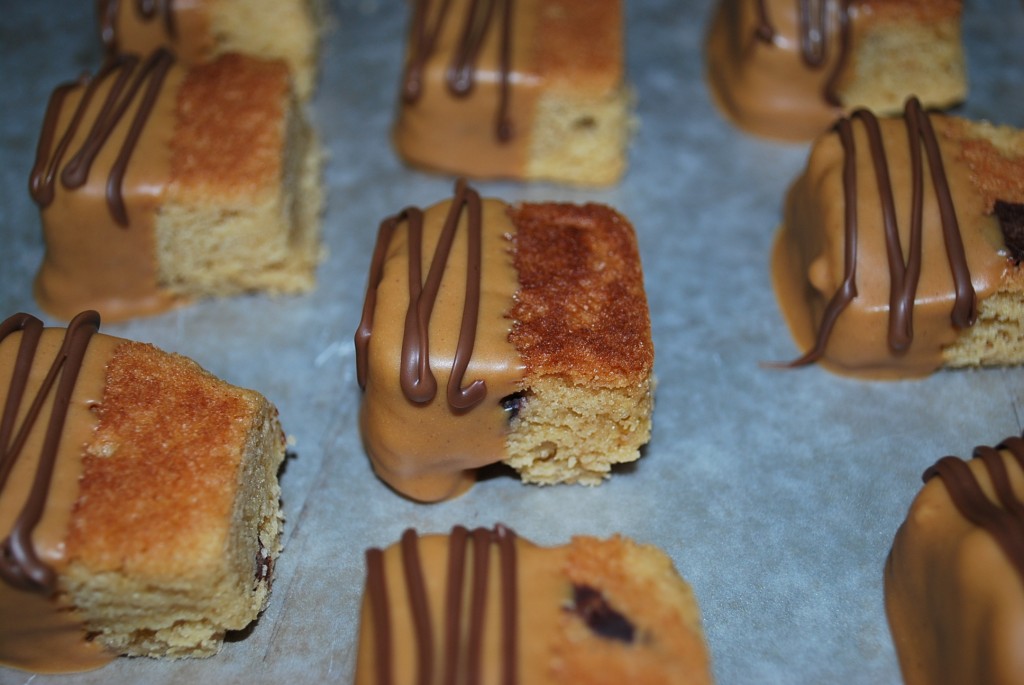 If you use the silicone mold, this will make about 25 brownies. If you make them in a regular pan, it will make approximately 16 squares, depending on how large you cut them!