So for breakfast this morning I had a cup of instant oatmeal and a lean cuisine for lunch – needless to say I needed something sweet. Every once in awhile, I head across the breezeway to Community Canteen – a little lunch/coffee shop in the bottom of the building across from mine at work – and grab a cookie. I like their cookies because they are super thin which makes me believe they have to have at least half the calories as a normal cookie their size. A huge plate of cupcakes usually sits in the display – but seeing as how I make cupcakes for a side-living, I usually never have any interest in them. Today was different – I was craving a chocolate cupcake. And that is when I came up with my new blog addition concept – why not try other company's cupcakes and rate them! It would give me to do a little "market research."
Cupcakes will be rated based on 4 things: appearance, the cake, the frosting  and overall. Each cupcake will then be awarded one of the ratings below:

One Cake: Not impressed at all!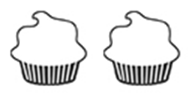 Two Cakes: Average – nothing special

Three Cakes: That's a good cupcake!

Four Cakes: Wow that's an amaazzziinnnggg cupcake!!
And feel free to comment if you have tried the competitor's cupcakes!!