Yes I'm finally back from my Vegas, beach, wedding extravaganza vacation. After cleaning  up my WP dashboard (aka marking 67834567 comments as spam) here I am to write a new post – which I'm sure you've been eagerly awaiting. I don't have a Useful Tip Tuesday (other than don't spend more than 3-4 days in Vegas at a time) so here are a few cakes I've seen recently that I've liked. All have one thing in common – original textures. By this I mean home-made looking cakes. The first one is from a wedding that the The Bride's Cafe covered: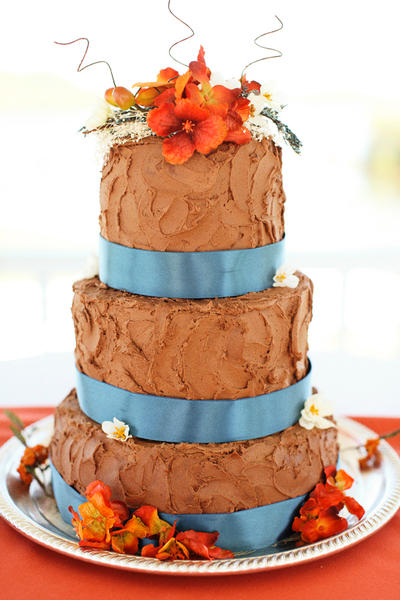 I think the textured chocolate frosting makes it more yummy looking! Next up is a cake I saw on Project Wedding: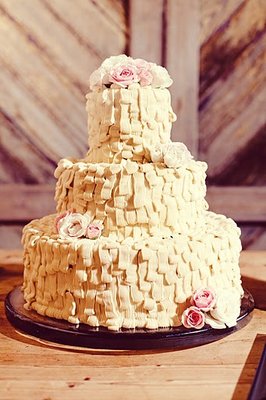 I'm going to be honest.. I'm not sure how I feel about this one. It is one of those cakes that you can't tell whether they whipped it up in 5 minutes or slaved over it for hours. It reminds me of a komondor for some reason – but I'm sure it was delicious! The last one is a cake from CakeLove (whom I've dubbed the mall cake place). I was looking for one very similar and couldn't find it but this one will do.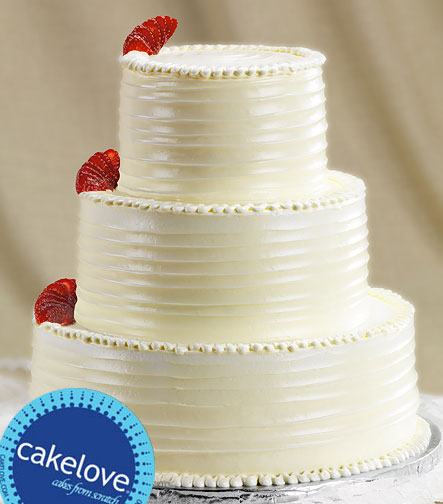 The cool thing about these cakes is that you don't have to spend so much time smoothing the buttercream out. Yes I know – you can use the Viva paper towel trick (when you were younger and pretended to care about your weight when you ate pizza, did you ever lay a paper towel on top of your slice to soak up the grease and then it gave it that weird textured paper towel pizza look?) or you can use this nifty tool!
Keep your eyes open for a really neat looking wedding cake I'm working on in the near future…