This past Friday was my father's birthday and we traveled home to visit so I obviously made a cake. He has two favorites – German Chocolate Cake and Chocolate Cake with Aunt Ninny's White Icing. Aunt Ninny's White Icing is my great aunt's white icing and it is A-MAZ-ING. But I decided to try out a new German Chocolate recipe. Not too long ago, Bobby Flay threw down with Aliyyah Baylor of Make My Cake in a German Chocolate Cake competition. Her recipe was posted on the Food Network site by a viewer and had great reviews so I decided to try it out!
The verdict: Delicious!! The moist, fall apart cake was very light and airy, yet very flavorful. The pecan-coconut filling was also very tasty. Here is the recipe so you can try it!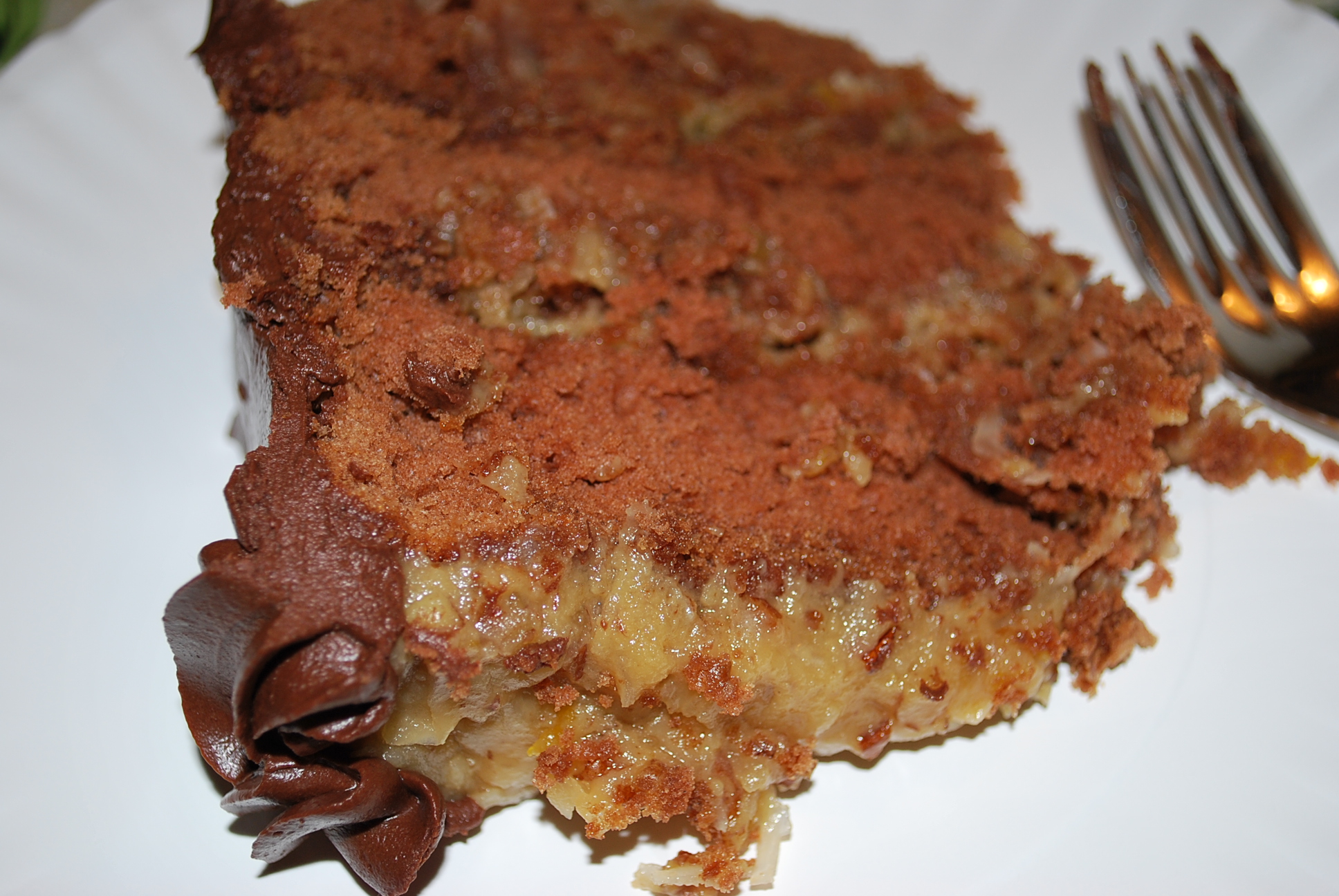 Ingredients
4 ounces baker's chocolate (I used Baker's German Sweet Chocolate)
1/2 cup boiling water
2 cups cake flour (I used 2 1/3 cups of cake flour)
1 teaspoon baking soda
1/2 teaspoon salt
1/2 pound unsalted butter, room temperature
1 teaspoon pure vanilla extract
1 1/2 cups granulated sugar
1/2 cup brown sugar
4 eggs, separated
1 cup buttermilk
Favorite chocolate frosting, for the sides (I used Whipped German Chocolate Ganache)
Directions
In a microwave safe bowl, pour the boiling water over the chopped chocolate. Stir until smooth and set aside. In a separate bowl, sift together the cake flour, baking soda and salt. Set aside.
Preheat the oven to 350 degrees F.
In the bowl of a stand mixer, cream together the butter, vanilla extract, granulated sugar and brown sugar until light and fluffy. Scrape down the sides of the bowl. Add egg yolks one at a time, beating well after each addition. Blend in the melted chocolate.  Add the flour mixture and buttermilk, alternating, until just combined.
Add the egg whites to a small bowl and beat with an egg beater until stiff peaks form. Gently fold the whites into the batter until well incorporated.
Pour the batter evenly into 2 (9-inch) cake pans or 2 (12 capacity) cupcake tins. I poured it into 3 (8-inch pans) since I wanted 3 layers. Bake until a toothpick inserted into the center of the cake comes out clean, about 30 minutes for the larger cakes and 15 to 20 for the cupcakes. Remove from the oven to a cooling rack and allow to cool completely before filling and frosting.
For the Coconut Pecan Filling:
1 1/2 cups evaporated milk
5 egg yolks, slightly beaten
1 cup granulated sugar
1 cup brown sugar
2 teaspoons vanilla extract
1 cup butter
2 1/2 cups flaked coconut
2 cups toasted pecans (I actually only used 1 1/3 cups)
Combine the evaporated milk, slightly beaten egg yolks, granulated sugar, brown sugar, vanilla and butter in a large saucepan or heavy pot over low heat. When the butter melts, raise the heat to medium, stirring constantly. The mixture will thicken after 10 to 12 minutes. Remove from the heat. Add the coconut and pecans and cool. It will continure to thicken as it cools.
To Assemble the German Chocolate Cake:
Put a cake layer on top of a serving plate and top with a generous layer of the caramel/pecan filling. Cover the filling with another cake layer of and spread with the filling. Repeat if you have more than 2 layers. `Top with the final layer. You can add more filling on top as I did – smoothing out and leaving about 1 cm around the edges, like this: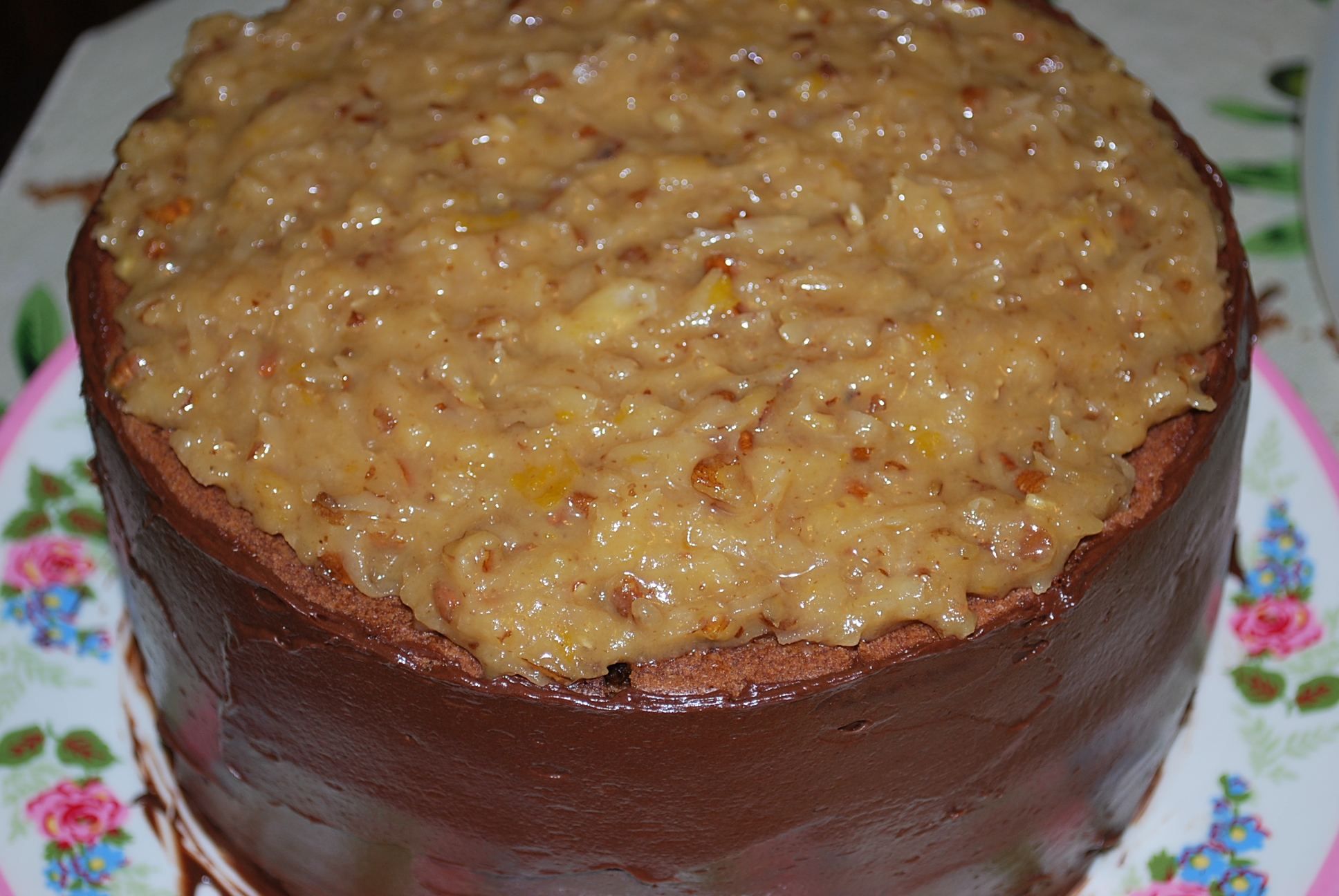 Next, ice the sides with chocolate icing or ganache. Then, with your favorite piping tip, decorate the perimeter of the top, blending the sides and sealing in the filling. Or you can just cover the entire cake with the delicious chocolate ganache!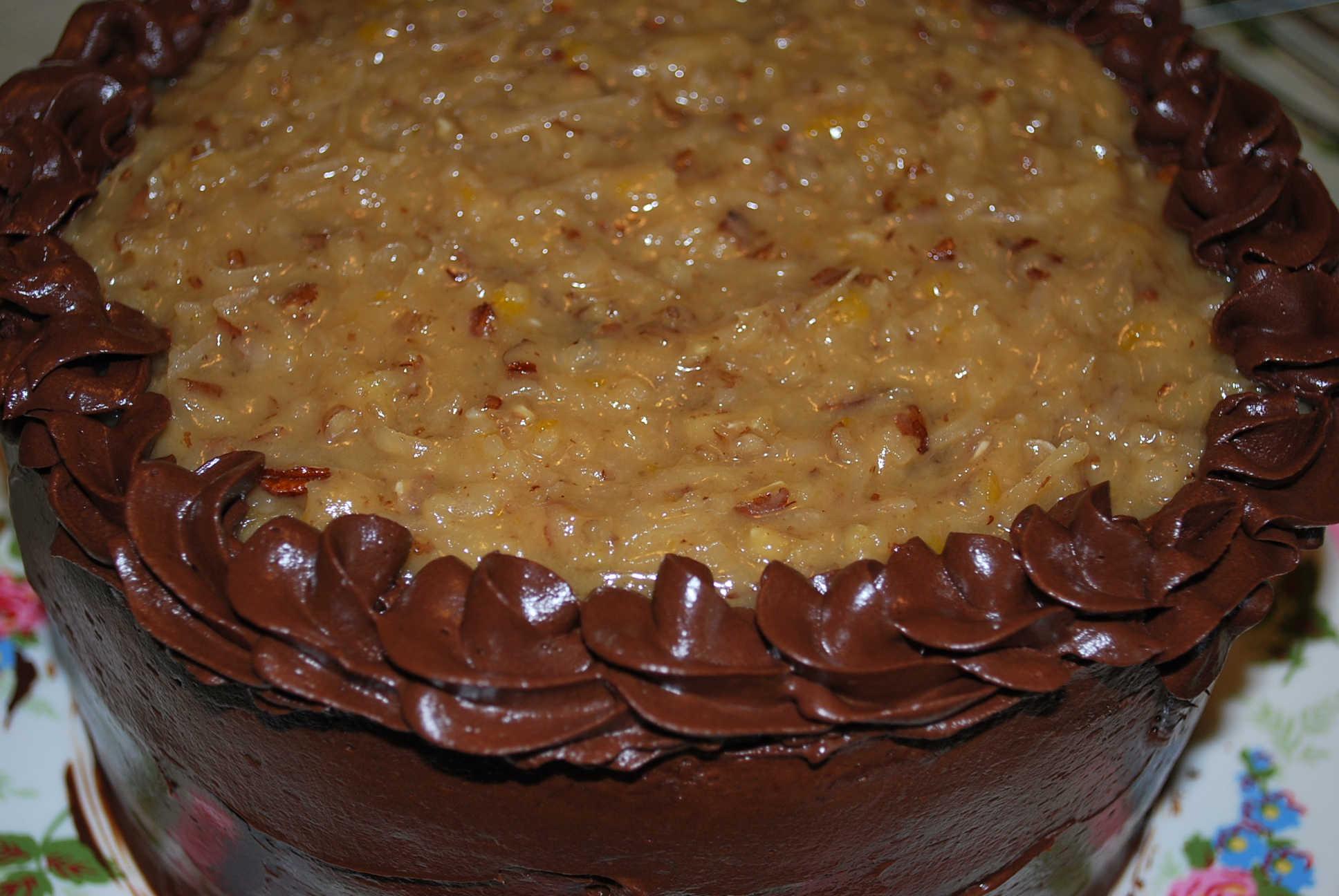 Ganache is easy to make. For Dark Chocolate, the chocolate to cream ratio is 2:1. For milk, german or white, the ratio is 2.5:1. Heat your heavy whipping cream until it JUST comes to a boil and pour it over your chopped chocolate. Let it sit for 5 minutes and then whisk until all of the chocolate melts. Let it sit aside and it will thicken to a spreading consistency as it cools. For a slideshow tutorial, visit Serious Eats.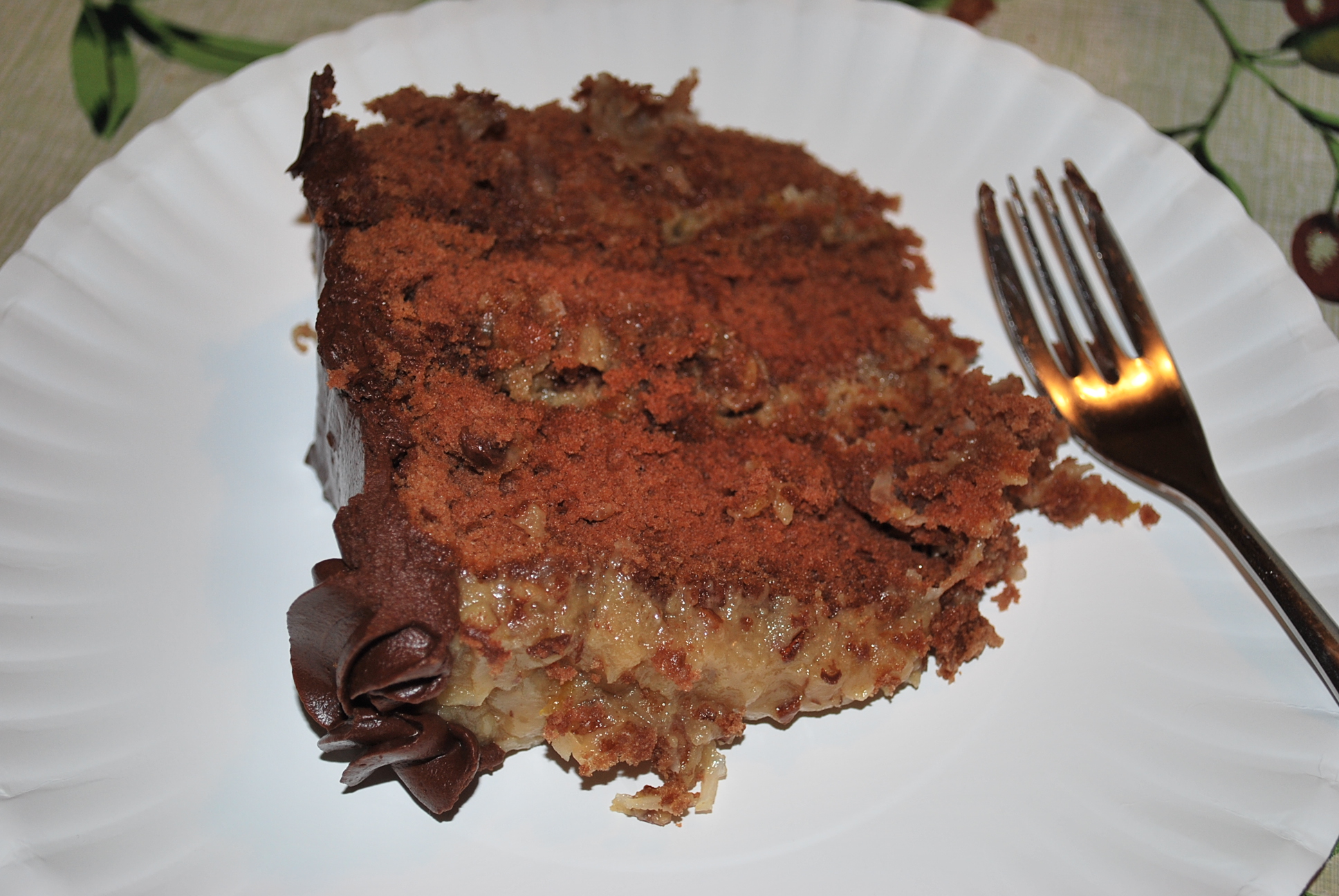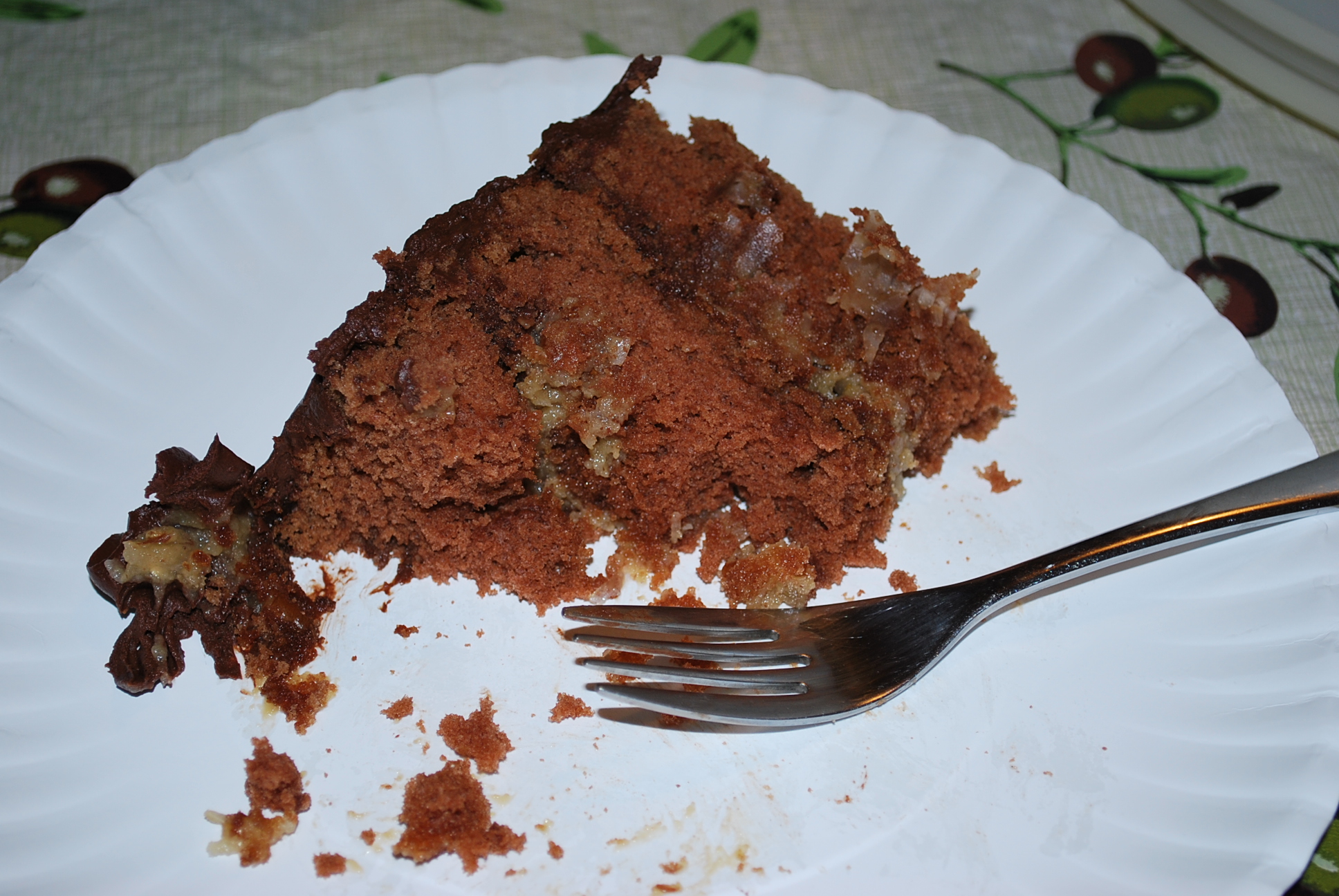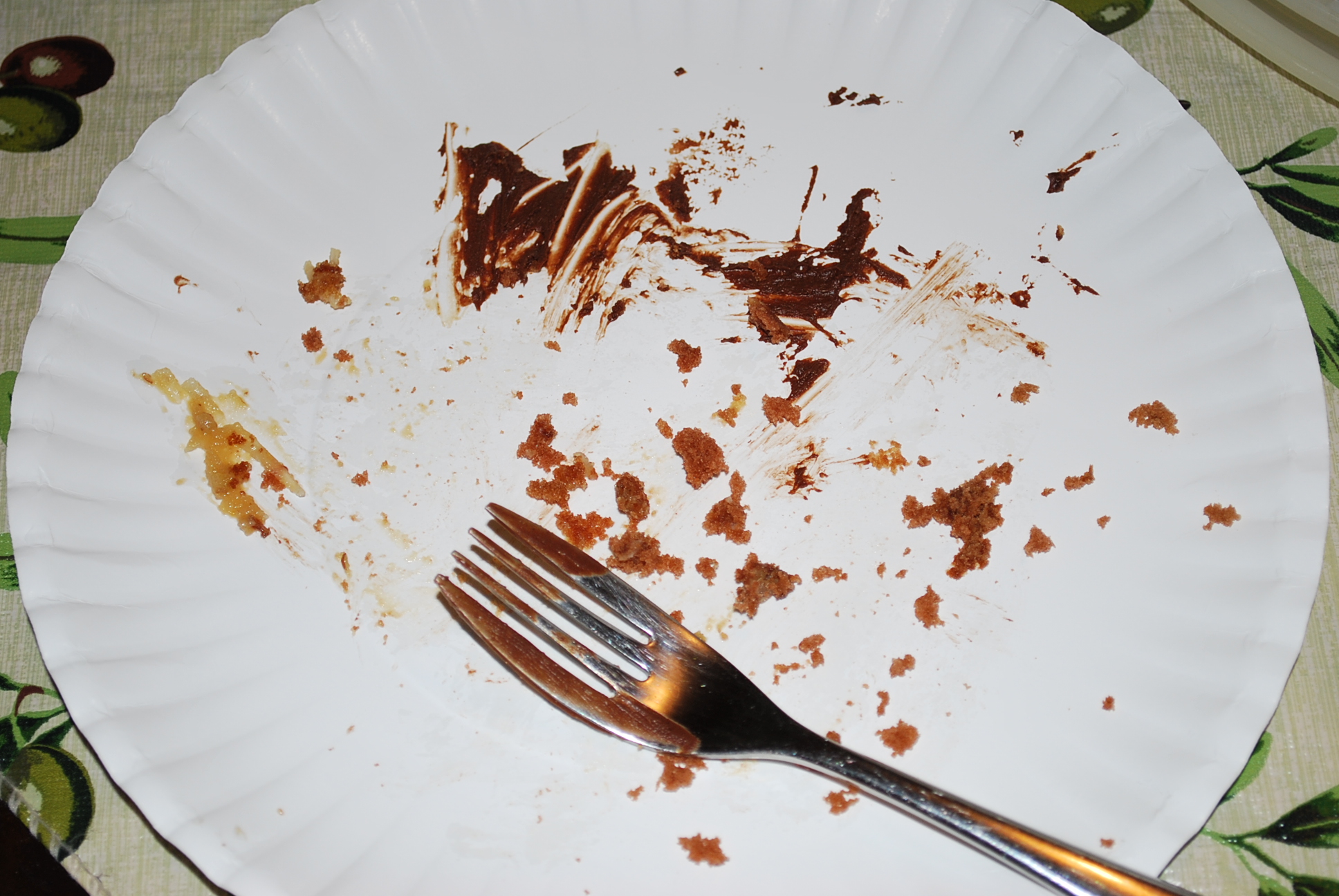 Here's an interesting tid-bit according to Wikipedia:
Contrary to popular belief, this cake did not originate in Germany. Instead, the name derives from Baker's German's Sweet Chocolate, which was created in 1852 by an Englishman named Samuel German for the Baker's Chocolate brand. The original recipe for "German's Chocolate Cake" was sent by a Dallas, Texas homemaker to a local newspaper in 1957. The cake became quite popular and General Foods — which owned the brand at the time — distributed the recipe to other newspapers in the country and sales of Baker's Chocolate are said to have increased by as much as 73%. The possessive form (German's) was dropped in subsequent publications, forming the "German Chocolate Cake" identity we know today.
It has been suggested that the cake may not have directly originated from this recipe, as similar buttermilk and chocolate cakes had been popular in the American South for decades.