I made two desserts this year and both are worth sharing. The first is Pioneer Woman's dreamy apple pie, but with a twist. And the twist is rum. What doesn't rum make better? Any how, here's the recipe: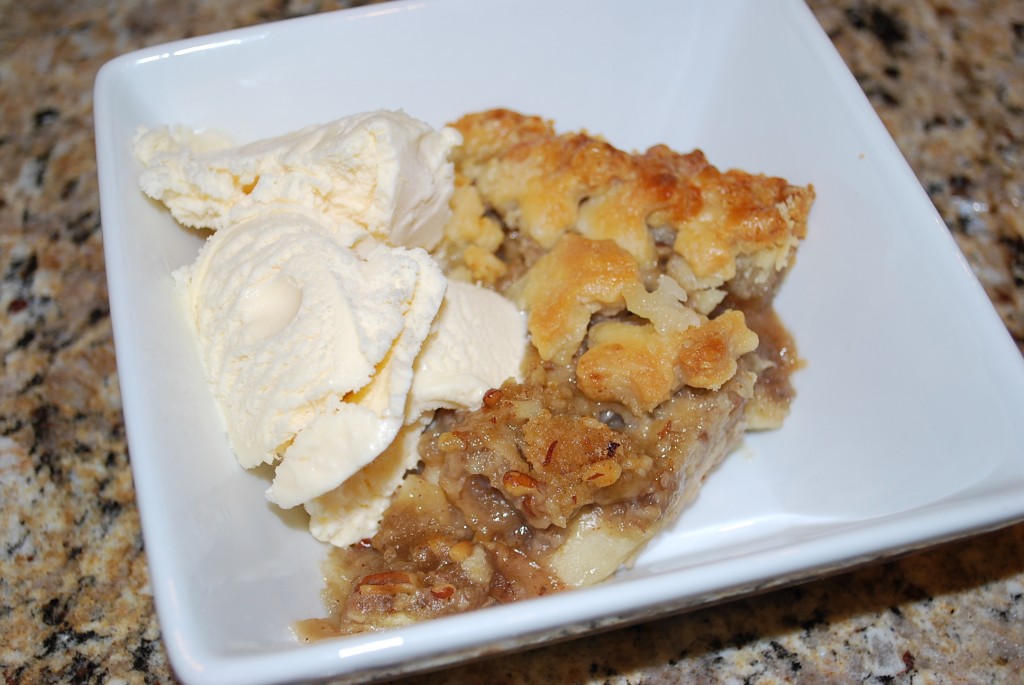 the REALLY dreamy apple pie
I've never tried her pie crust recipe, although I'm sure its great. I use the one out of the Cook's Country – you can find that re-posted here.
Ingredients:
for the filling-
4 Granny Smith Apples, peeled, cored and sliced into thin, small pieces
1/2 cup Brown Sugar
1/2 cup Sugar
1 Tablespoon All-purpose Flour
3/4 cup Heavy Cream
1/2 cup spiced rum
2 teaspoons Vanilla Extract
1/4 teaspoon Cinnamon
for the topping-
7 Tablespoons Butter
3/4 cups All-purpose Flour
1/2 cup Brown Sugar
1/4 cup Pecans (more To Taste)
Dash Of Salt
Method:
Preheat oven to 375 degrees.
Roll out pie dough and place it in a pie pan. Decorate the edges as desired. I left it pretty simple and then cut out leaf shapes from the remaining crust to layer over the prepared pie and topping.
Add apple slices to a large bowl. In a separate bowl, mix together cream, 1/2 cup of spiced rum, 1/2 cup brown sugar, 1/2 cup sugar, 1 tablespoon flour, vanilla, and cinnamon. Pour over apples and toss to coat. Pour apples and filling into pie shell.
In the bowl of a food processor (or you can mix by hand) combine butter, flour, sugar, pecans (chop if you're not using a food processor), and salt. Mix until everything comes together in clumps. Sprinkle topping over apples. This is where I added rings of layered pie crust leaves around the perimeter, leaving the middle open. Lightly brush the exposed crust with heavy cream.
Lay a piece of flat foil loosely over the top of the pie. Place pie pan on top of a foil covered cookie sheet and bake for one hour. The baking sheet is crucial because the apple juices will ooze over the sides and you don't want them on the bottom of your oven. The foil in between the pie and the baking sheet is crucial because that juice is REALLY sticky and hard to get off your baking sheet. At the end, remove foil and allow to finish baking and browning. You can bake for up to 15 or 20 minutes more if necessary.
Remove from oven when pie is bubbly. You can let it sit for about 15 minutes and serve warm – or it will keep on the counter while you are enjoying dinner and can be heated up in the microwave. And of course, you need a nice helping of vanilla ice cream on the side!
Unfortunately, I didn't get a shot right out of the oven or before we dug in. So here's the lonely last piece…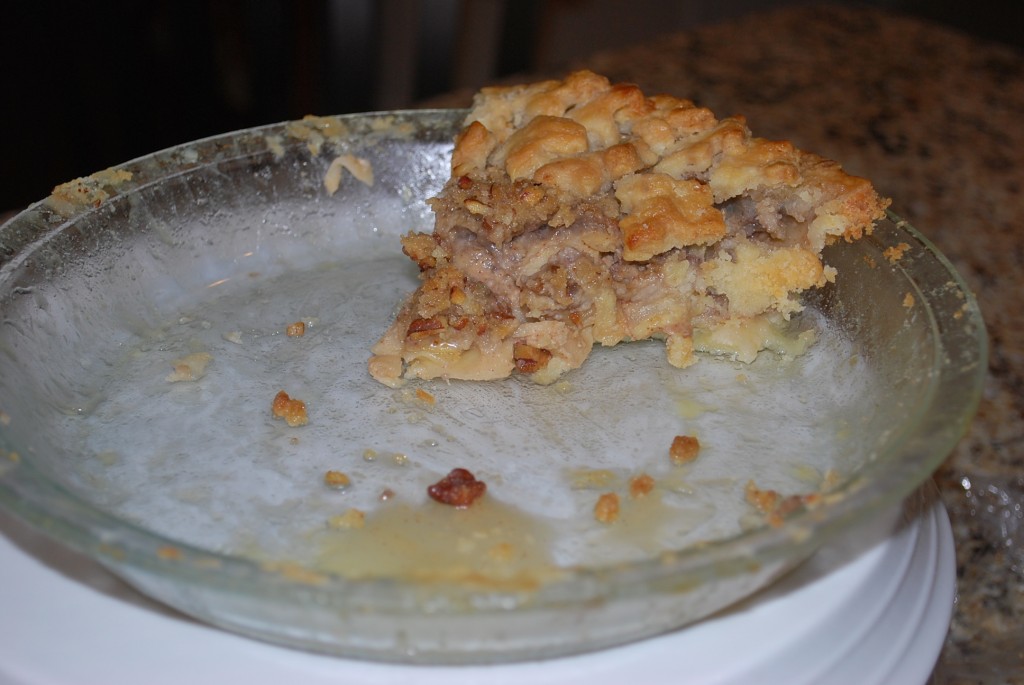 … and my bowl shortly after a quick trip to the microwave and a rendezvous with some vanilla ice cream. Enjoy! I'll post my rum cake recipe soon! (yes, there was a lot of baking with rum on thanksgiving, nothin' wrong with that!)