Yesterday was SOOOOOO much fun. Our friends Craig and Kendra got married in North Beach, MD. They asked me early on to supply their wedding cake for them. She told me they wanted a two tiered cake to cut and save for their one year anniversary and cupcakes to serve everyone. After the lavender wedding, I had experience in this kind of cake arrangement so I was super excited to find out the theme. We threw around decor ideas and Kendra decided on alternating white chocolate and almond cupcakes with alternating light pink and charcoal gray buttercream, topped with sugar pearls. She wanted her two tier cake frosted naturally with texture and then sugar calla's on top.
Let me first start with the grooms cake. When Kendra told me Craig loved peanut butter and chocolate, I got so excited to make a peanut butter cup cake, seeing as how I LOVE reese cups and anything peanut butter too. I started with a chocolate cake and then made a batch of my buttercream.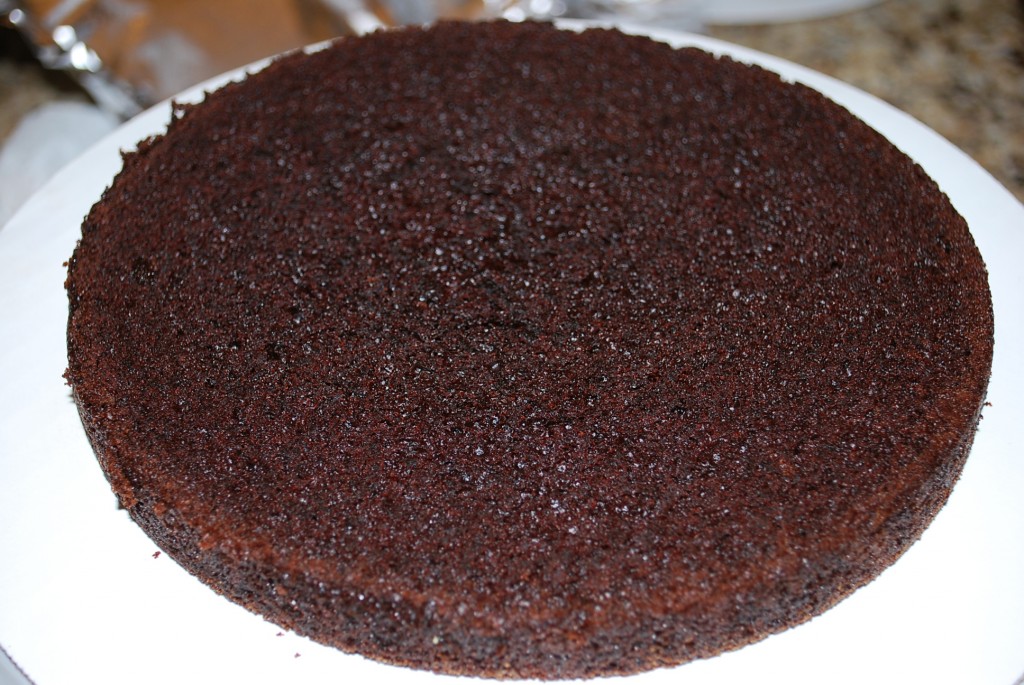 Then I mixed in a healthy portion of peanut butter (holy yum)…

And then I sprinkled chopped Reese cups over each layer of peanut butter buttercream.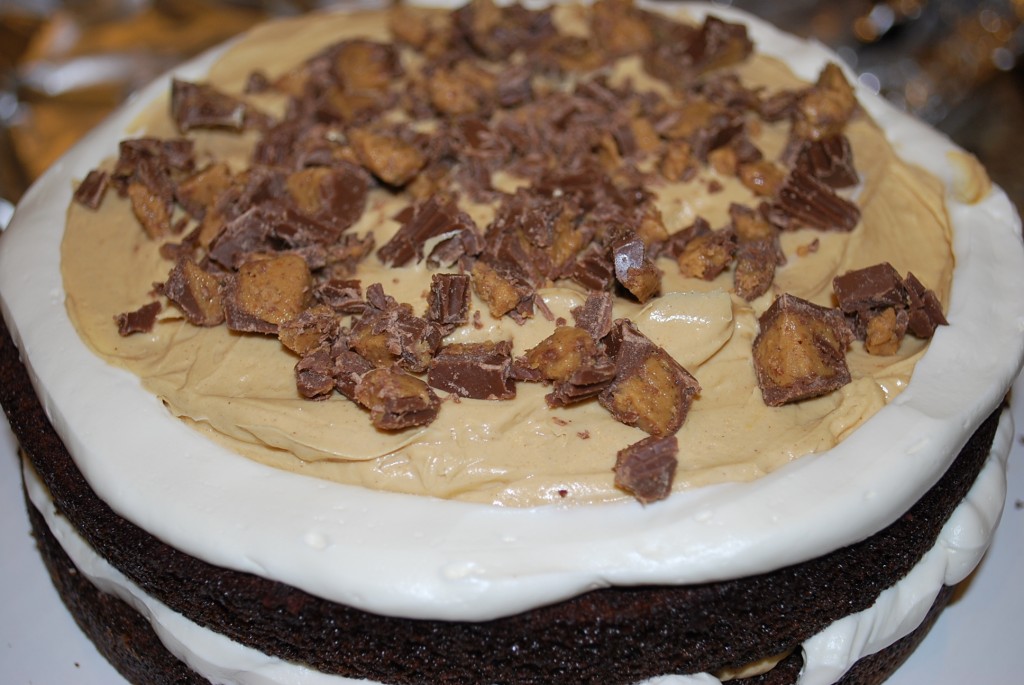 Finally, I iced the cake with vanilla buttercream and covered the top with green colored buttercream. I used my carefully prepared fondant pieces to finish it off: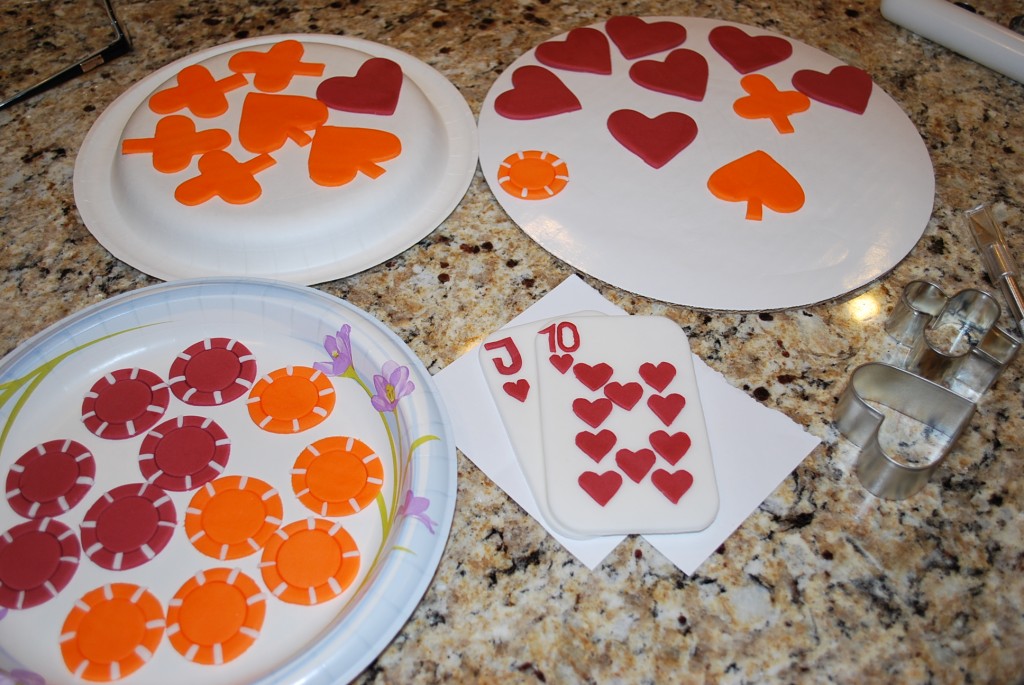 Next on my list was the wedding cake. Kendra chose a two tier cake, one tier for cutting and one for the traditional one year anniversary. She wanted a textured cake with three sugar calls on top: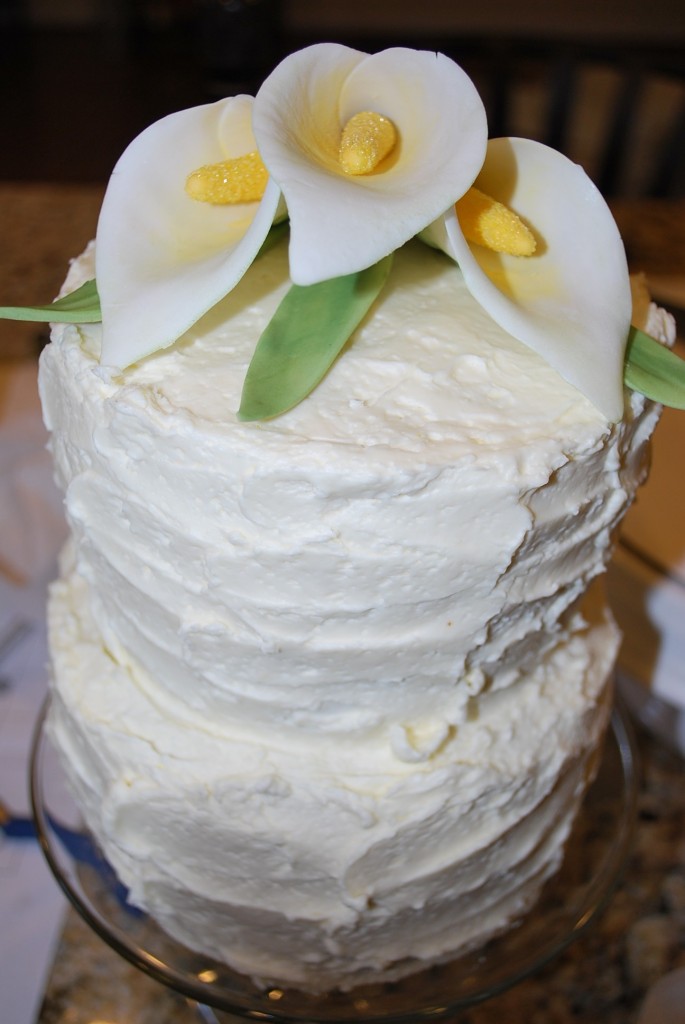 And finally, the cupcakes! White chocolate cake with chocolate hazelnut buttercream tinted charcoal gray and almond cake with hazelnut buttercream tinted light pink – both flavors filled with raspberry brandy filling. Yum!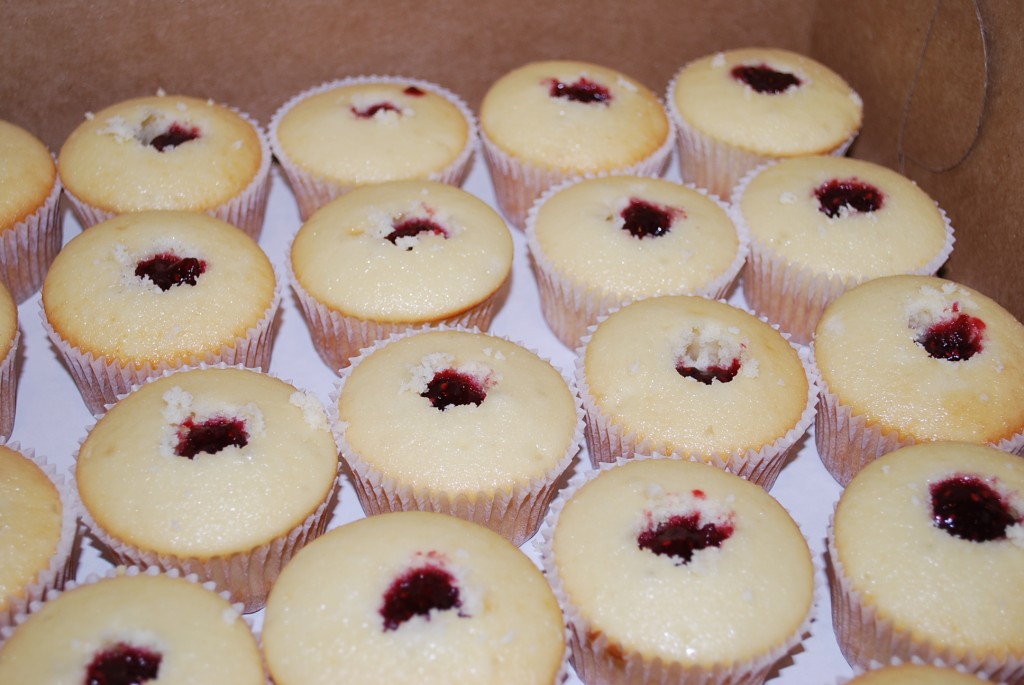 The cupcakes were finished off with sugar pearls.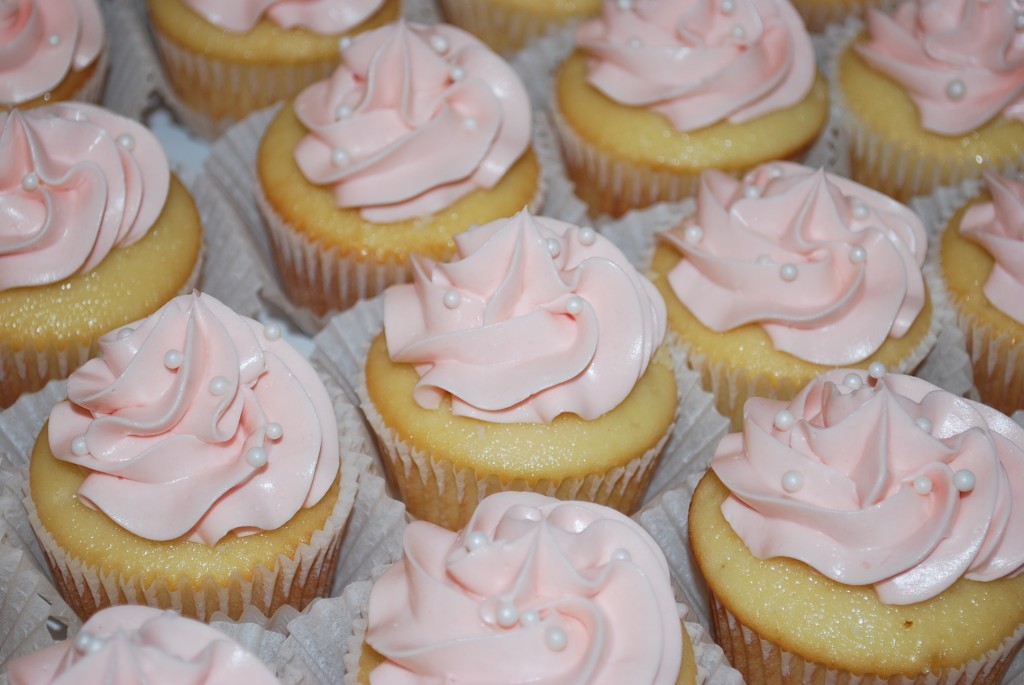 Here's the finished product! All setup and ready to celebrate!!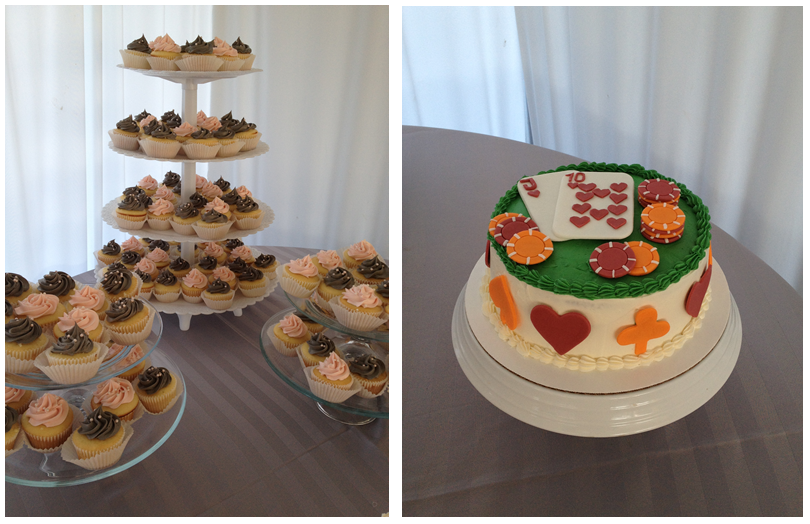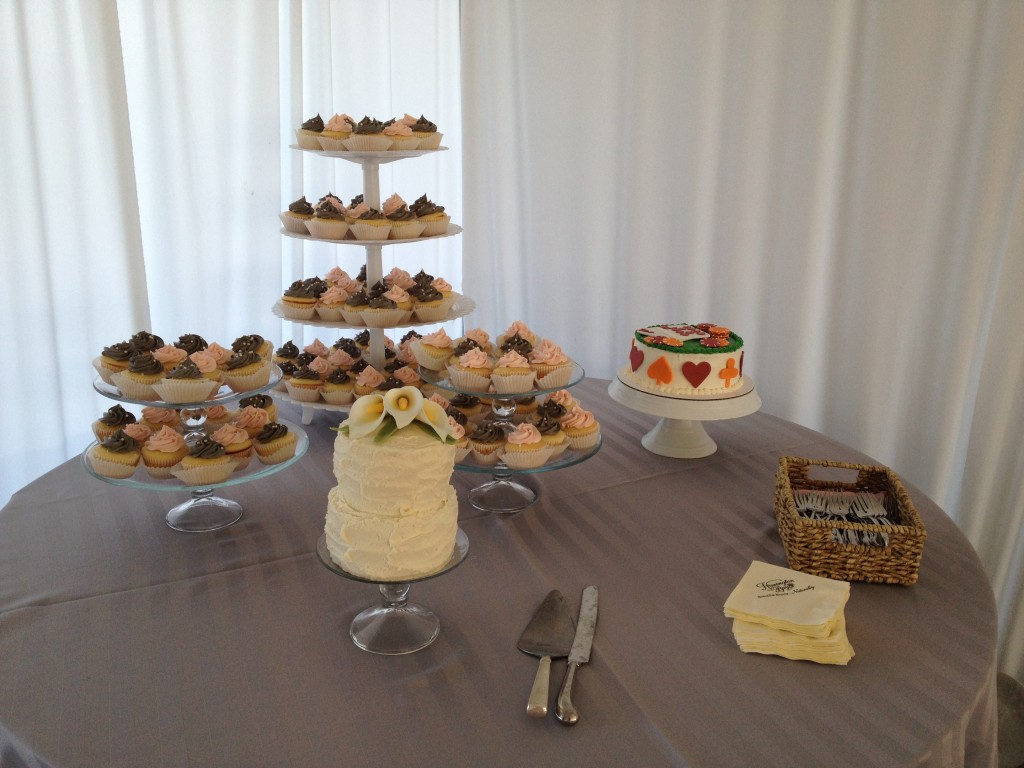 I'm always a tad anxious and stressed leading up to finishing and delivering, but the yummy comments from our friends and the bride and groom make it so worth it! I got so many sweet compliments from everyone 🙂  Thank you, Craig and Kendra, for allowing me to make your wedding cake. It was a beautiful wedding and we had so much fun!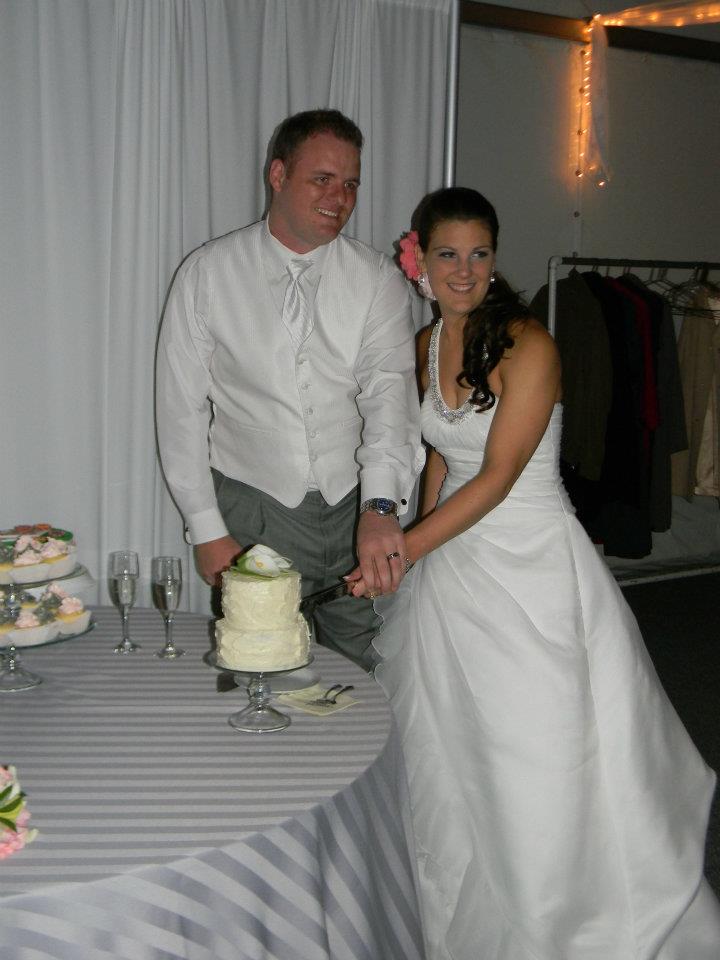 photo from facebook