A few weekends ago, my future hubby spent the weekend with his friend Bobby in New York. While I miss him dearly whenever he's gone, I enjoy spending my Saturday nights baking new recipes. This particular night I made coconut lemon bars (which I didn't take a picture of) and salted millionaires shortbread, which I changed a little and renamed salted chocolate caramel bars.
Adapted from Une Gamine dans la Cuisine
Crust ingredients
1/2 cup (that's 1 stick) of unsalted butter, at room temperature
1 1/4 cups of all purpose flour
1/2 teaspoon of kosher salt
2 Tablespoons of sugar
Dulce de leche ingredients
1 (14 oz) can of sweetened condensed milk
1/2 cup (that's 1 stick) of Salted butter cut into cubes (this will help it melt faster)
3 Tablespoons of dark brown sugar
dash of kosher salt
1/2 teaspoon of pure almond extract
Chocolate topping ingredients
6 ounces of chopped dark or bittersweet chocolate
1 Tablespoon of butter
Sea salt
Preheat the oven to 350F. Line an 8×8 inch square baking pan with foil and butter or spray the entire pan (bottom and sides.) Make sure you use foil – I didn't and it made it hard to get the first couple pieces out. Set aside.
Crust: In a medium bowl, beat the butter on high speed until it becomes light and fluffy (about 3 minutes or so.) On low speed, add the flour, salt and sugar and mix just until a crumbly dough forms. Try not to over mix. Press the dough into the prepared pan, going up the sides a bit. Prick the dough a few times with a fork. Bake for 15-18 minutes or until the crust is just starting to turn a light gold. Remove from the oven and cool completely. You may turn off the oven at this point since you won't need it again.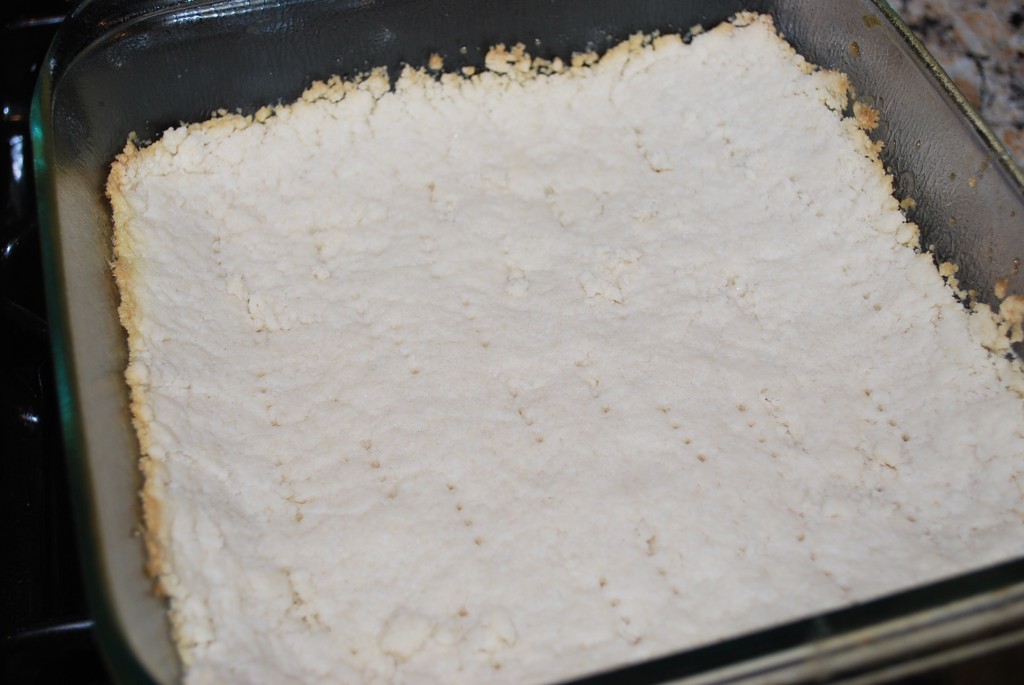 Dulce de leche: Empty the can of sweet milk into a heavy, medium sized pot. I could eat this stuff right out of the can with a spoon.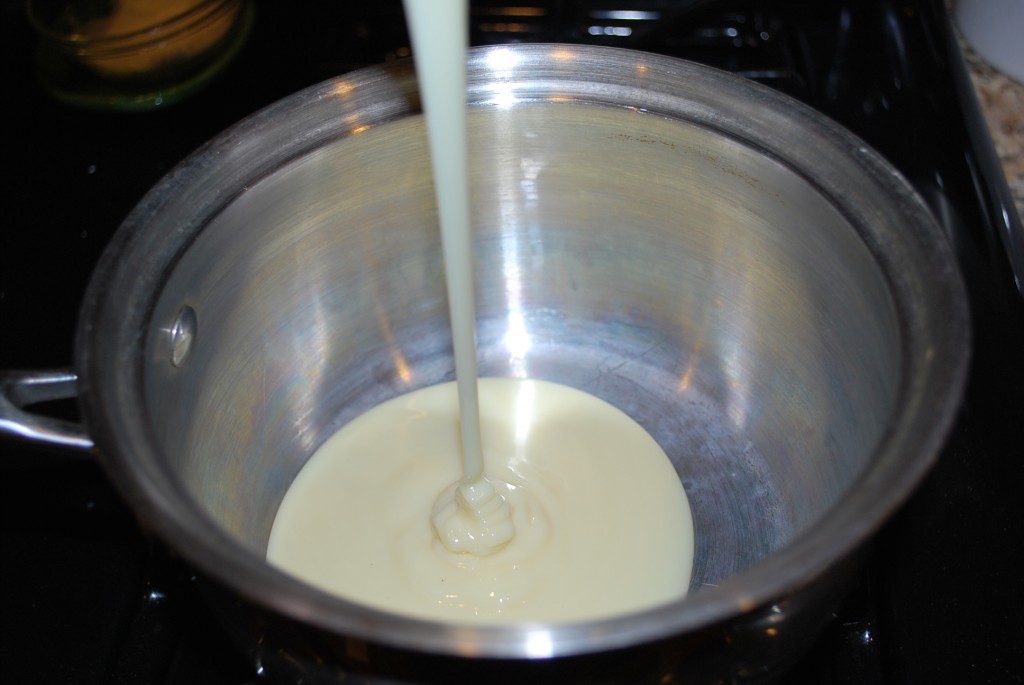 Add the cubed butter, brown sugar, and salt. Place the pot over medium-low heat and stir until the butter has melted. Turn the heat up a bit to a medium heat. Stir constantly until the mixture resembles a thick light golden caramel. Depending on how high the heat is, it may take up to 15-30 minutes. Be sure to keep stirring to prevent the bottom from burning. The longer you heat the mixture, the deeper the flavor till be. Unfortunately, my stupid metal pan caused the dulce de leche to burn on the sides, so I didn't cook it as long as I would have liked to. While it still turned out delicious, it didn't harden completely like caramels do.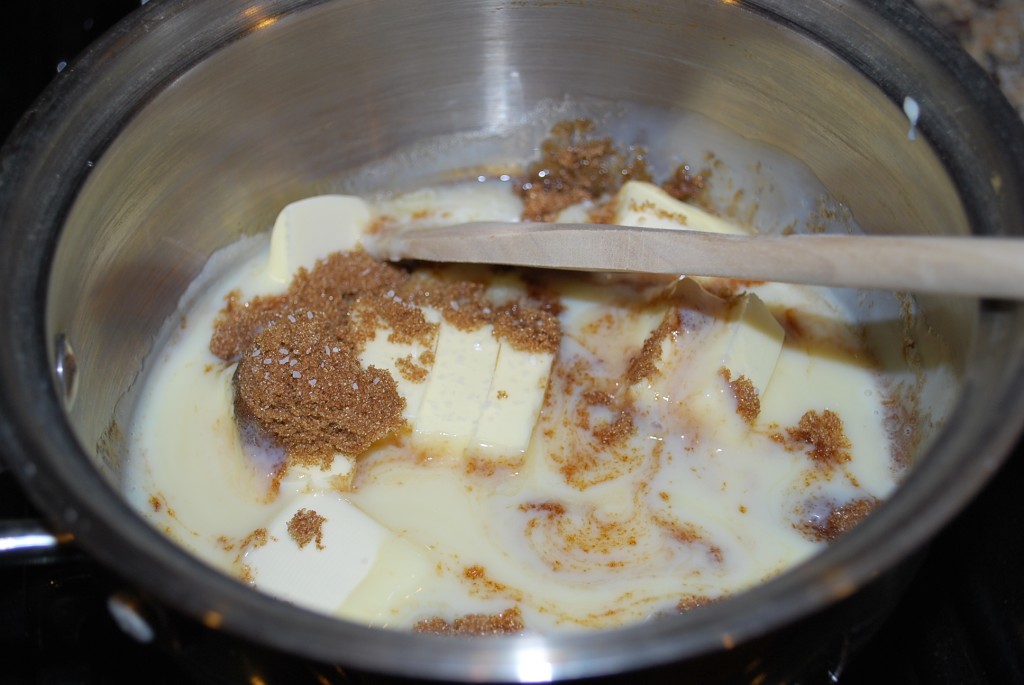 Once the mixture is thick and gold, remove from heat and quickly stir in the almond extract (be careful not to burn yourself as the caramel may spatter.)
Immediately pour the mixture over the cooled crust and spread it evenly before it hardens. It should be easy to spread as long as you don't hesitate too long. Set the bars aside to cool for about 20 minutes.
Chocolate topping: Place a heatproof bowl over a pot of simmering water. Make sure no steam is escaping from the pot. Place the chopped chocolate and butter into the bowl and stir until you have a smooth, shiny mixture. (If you don't have a bar of chocolate, you can use chocolate chips, but don't add the butter. It will cause it to clump. Just warm in the microwave in 30 second intervals until smooth.) Carefully remove from heat and drizzle the chocolate over the cooled dulce de leche layer. Sprinkle some sea salt over the chocolate before it cools.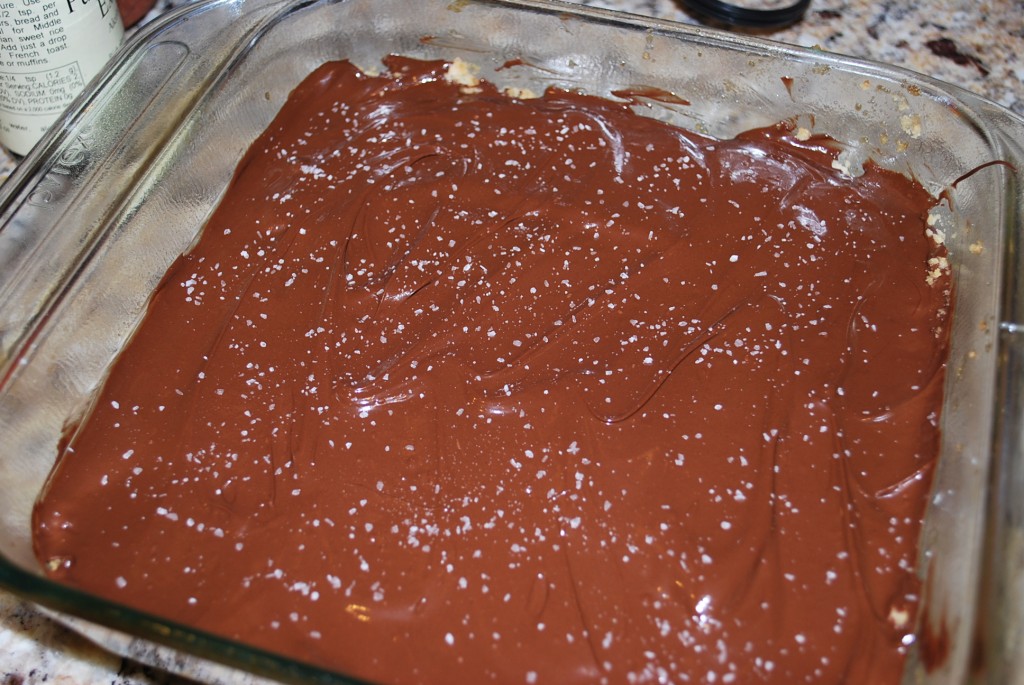 Chill the bars completely before serving. To cut the bars, run a sharp knife under hot water. Run the hot knife through the bars. Repeat as necessary.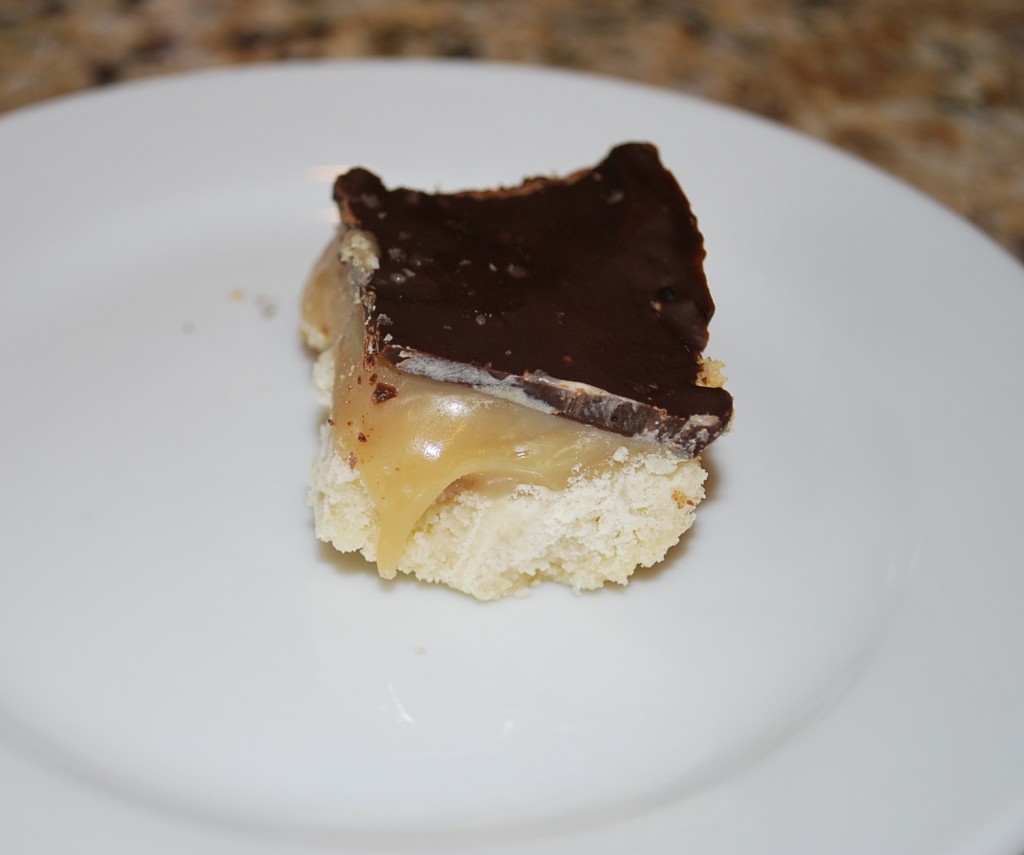 These bars are a great treat, but super rich. Next time I will cut it into smaller pieces!