Valentine's Day.. a fancy ending to a home-cooked meal… It's our guilty pleasure. 27 days until vacation and we've vowed to get in bathing-suit shape. However we decided to splurge tonight. I made Pasta Puttanesca for dinner – a relatively healthy dinner. But decided on our favorite dessert to end a wonderful weekend! Copy down this recipe – it will come in handy. I promise!
It started with google and ended on Pioneer Woman's site. The perfect Molten Lava Cake recipe. Here it is:
Preheat oven to 425 F and grease two souffle cups. This recipe is just enough for two, but feel free to double it if you want to make more or larger cakes!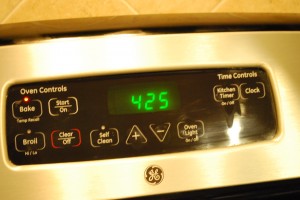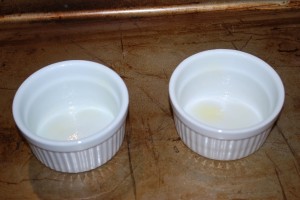 In a heat-safe bowl, combine two squares of chocolate (1 oz per square) and 1/4 cup of salted butter (one half of a stick). Heat in microwave in 30 second increments, mixing in between until both melt. Once the butter melts, you can whisk and the chocolate will follow suite.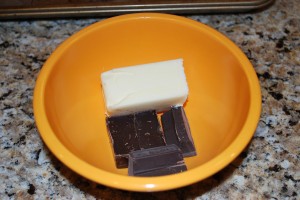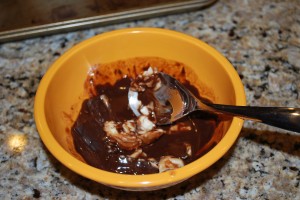 Side-note: what kind of chocolate to use? Well I use Baker's. For as long as I can remember, my Aunt Mich made chocolate chess pie every Thanksgiving and Christmas and I'd watch her melt the Baker's chocolate squares in a saucepan. It reminds me of her, but you can certainly use any other semi-sweet chocolate you wish!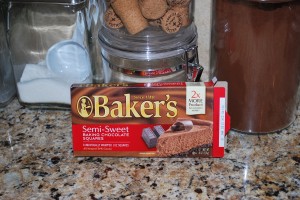 Once the chocolate and butter are melted and combined, add 1/2 cup of powdered sugar and stir to combine.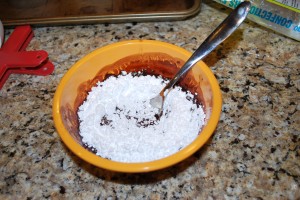 Next add one whole egg and one egg yolk. I crack them into a glass bowl and beat them with a fork before adding.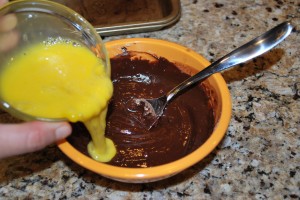 Next add three tablespoons of flour and mix to combine.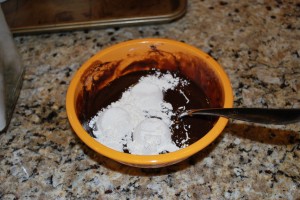 Divide evenly into two souffle cups…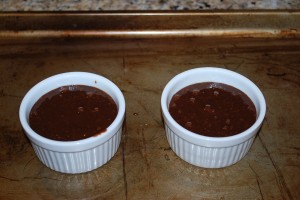 Place in oven and bake for 13 – 15 minutes. I go with 14. If you like more lava than cake, I'd go with 13. Likewise, if you like more cake, 15 but no longer than 15. Now I'm left with a chocolatey bowl – you can wash it right away… or do as I do. No biggie…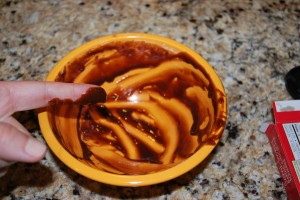 After 13ish minutes, pull out of the oven. Invert over plate and cakes should slide right out.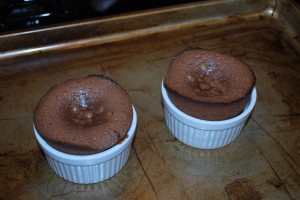 Here's a fun little trick, especially useful on Valentine's Day or an anniversary – cut a heart out of a piece of paper. Place over cake and sprinkle with powdered sugar…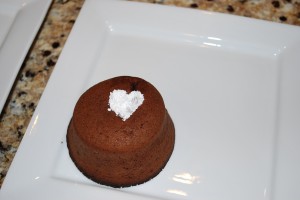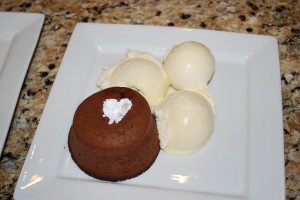 Add a side of vanilla ice cream. Ta da! A super simple, but decadent dessert!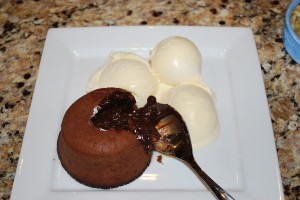 My favorite part is the first bite – when the lava cake oozes out. Ammmaazzinngggly delicious.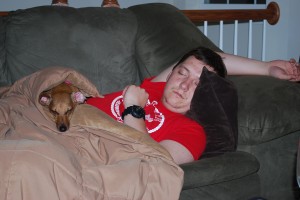 Yea… it's that good. Food-coma good. The girls got a little spoonful of vanilla ice cream too of course. Enjoy!