While my vanilla cake might be my favorite, I also have a soft spot for this chocolate cake. It isn't the ultimate recipe (which I am still searching for) but it is very close.
I honestly think the key to getting an incredible chocolate cake is, quite simply, the chocolate. Some call for chocolate squares (I use Baker's which kind of contradicts my statement above) and some call for cocoa. For Christmas this past year, my mom gave me a couple pounds of Callebaut cocoa. If you like to make chocolate confections, it's worth a try!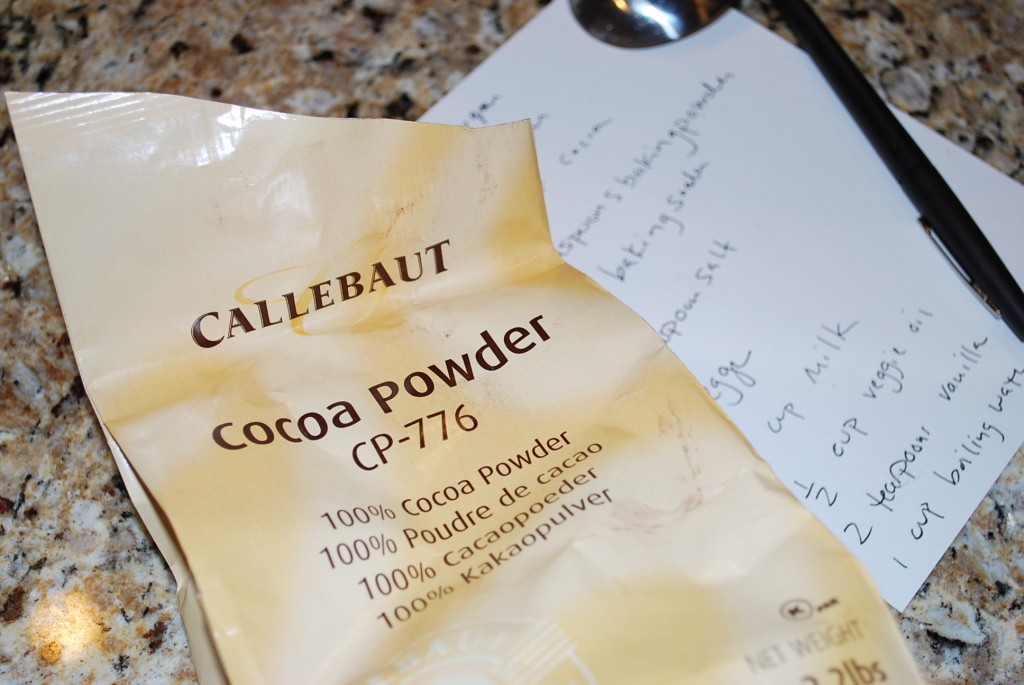 Perfect Chocolate Cupcakes from Glorious Treats 
makes 24 – 27 standard sized cupcakes
2 cups sugar
1 3/4 cups all purpose flour
3/4 cup unsweetened cocoa (best quality available)
1 1/2 teaspoons baking powder
1 1/2 teaspoons baking soda
1 teaspoon salt
2 eggs
1 cup whole milk
1/2 cup vegetable oil
2 teaspoons vanilla extract (best quality available)
1 cup boiling water
Directions-
Line muffin tin with paper liners.  Heat oven to 350*F.
In a large mixing bowl, stir together sugar, flour, cocoa, baking powder, baking soda and salt.
Add eggs, milk, oil and vanilla.  Beat on medium speed for one minute.
Stir in boiling water (the batter will be thin, don't worry, this is right).
Fill liners 2/3 full with batter.  (I usually put the batter into a large measuring cup with a pour spout, and then pour the batter into the liners.) 
Bake cupcakes for aproximately 22-24 minutes.
Cool completely on wire rack before frosting.
My only complaint – you have to make sure you only fill it 2/3 full or a little less, because it rises as it bakes and will overflow – resulting in a not-so-perfectly-domed cupcake. I think I will try
this recipe
next –
by i am baker
. She's amazing. And I am obssessed with her rossette style cakes. 
Here is the last chocolate cake I made = this recipe + mini chocolate chips, chocolate swiss meringue buttercream and raspberry buttercream filling.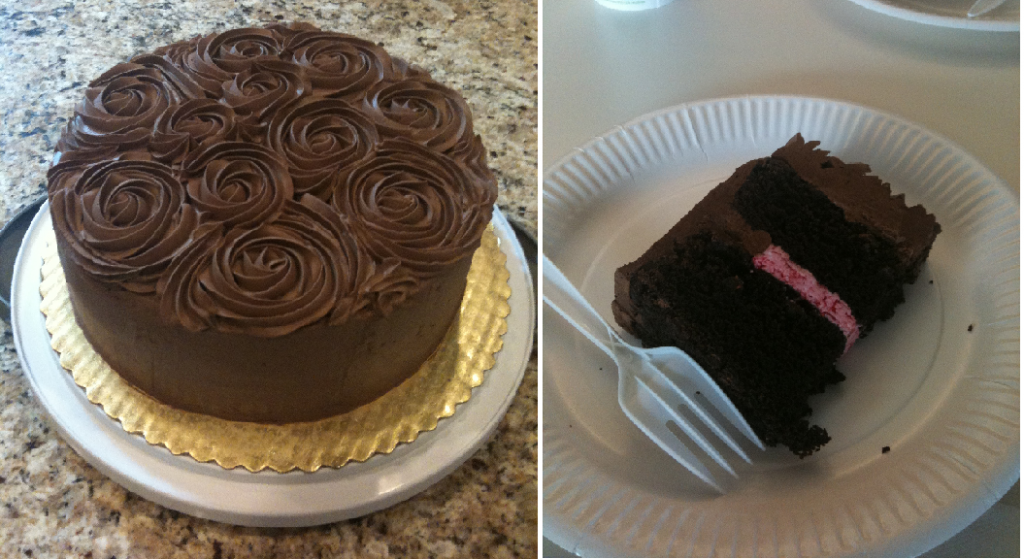 Patricia – hope this helps!