Last Tuesday was Ben and Jerry's free ice cream cone day so I went over to Pitango and got some gelato (since they probably weren't getting any customers…). I always get chocolate hazelnut and bourbon vanilla. While I was waiting for the nice gelato lady to do some fancy swirl thing on the top of my ice cream, I began to wonder what the meaning of "Bourbon" was and how it was associated with vanilla. Did the gelato have some bourbon in it? I always buy Madagascar-Bourbon Vanilla beans and extract as opposed to the Mexican variety.
Well after some research, I discovered that the majority of vanilla exported into the US is from Madagascar. Some varieties are from Réunion – a small French island east of Madagascar. At some point in history, the island was a part of the Bourbon Islands and it was even called Bourbon. Then, after the fall of the House of Bourbon, it became Réunion. What I'm getting at is that they produced and exported vanilla, therefore making it "Bourbon Vanilla." And I suppose they decided to keep calling it that instead of  "Réunion Vanilla."  Sometimes even referred to as Madagascar-Bourbon Vanilla because it comes from that general area. So there you have it – Bourbon Vanilla doesn't have anything to do with the liquor. And technically, it can only be Bourbon Vanilla if it comes from the little island of Réunion. And here's another interesting tid-bit if you happen to frequent Pitango for some afternoon/after dinner gelato. The vanilla beans they use are from Papua New Guinea – the last time I checked, that's no where near Réunion.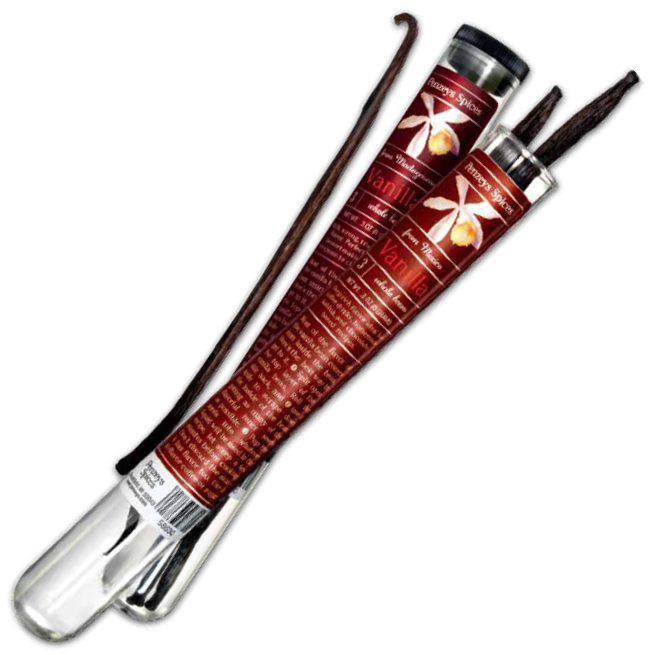 Where's your tip? Use quality vanilla. You'd be surprised at how much better your cookies and cakes will taste!
photo from the Penzey's catalog