I'm going to do it… after reading several reviews (mostly good) about the Lifestyle Crafts Letterpress Kit – I'm going to try it! Since they released it last fall, they've come out with new printing plates – which gives me faith that they will KEEP creating new plates. They've also released the option to create your OWN printing plates so the possibilities are endless!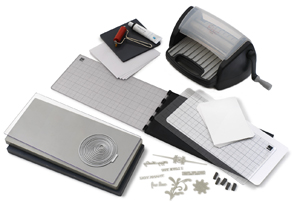 Photo from the L website
I have to admit I've NEVER been to an A.C. Moore – but the nice man that works at the one in Falls Church agreed to put the ONLY letterpress kit available at all A.C. Moore's in the area on hold for me. The reason why I am heading to A.C. Moore for this supposedly wonderous machine is because they offer 50% off coupons. That's enough to convince me! Stay tuned for an update… this is clearly what I'll be doing all weekend!
If you want to view some of the reviews for yourself, here you go!
An amazing review from PaperCrave
Insightful review from DIY Bride
Tips from Boxcar Press