The Knot posted a recent article about current wedding cake trends. The one I liked the most is below:
BUTTERCREAM-FROSTED CAKES!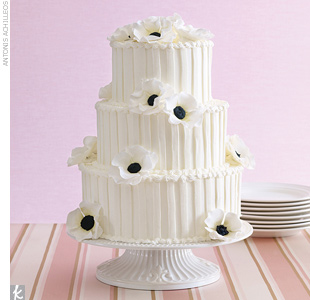 article: 7 Wedding Cake Trends
cake by Gail Watson of New York
I clearly like this because this is the main focus of my cakes! I try to target brides on a budget and I also believe that simple cakes can be very elegant. Fondant is fun and can be very gorgeous, it is just a little more expensive! Another option is a small, intricate wedding cake covered in fondant and cupcakes that resemble the main cake for the guests!