Someone suggested I post recipes on my blog. So in lieu of today being my Friday (yes.. I have a four day weekend) and it being a holiday weekend, here is a recipe for Funfetti Cupcakes! Perhaps you could use red, white and blue jimmies to make them Labor Day cupcakes! I haven't tried this recipe yet, but you better believe I am going to make some funfetti cake balls when my mixer and melting chocolate comes in! The recipe is from the fun blog cakespy.com! I love the bakery-inspired cartoons on the blog!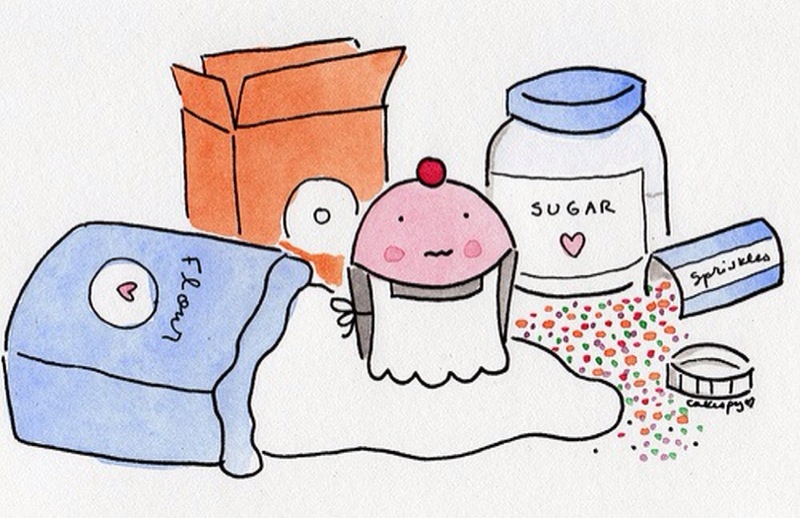 Artwork & Cuppie the Cupcake © Jessie Oleson. All rights reserved.
Funfetti Cupcakes
Recipe adapted from Cupcakes
by Shelly Kaldunski
Makes about 12 cupcakes
For the cupcakes
1-1/4 cups AP flour
1-1/2 tsp baking powder
1/4 tsp salt
3/4 cup sugar
6 tbsp butter, room temperature
1 large egg + 1 egg white, room temperature
1 tsp vanilla extract
1/2 cup milk (I used half-and-half instead)
2 tbsp rainbow sprinkles
For vanilla buttercream
2 sticks butter
7 cups powdered sugar, sifted
1/4 cup milk
1 teaspoon vanilla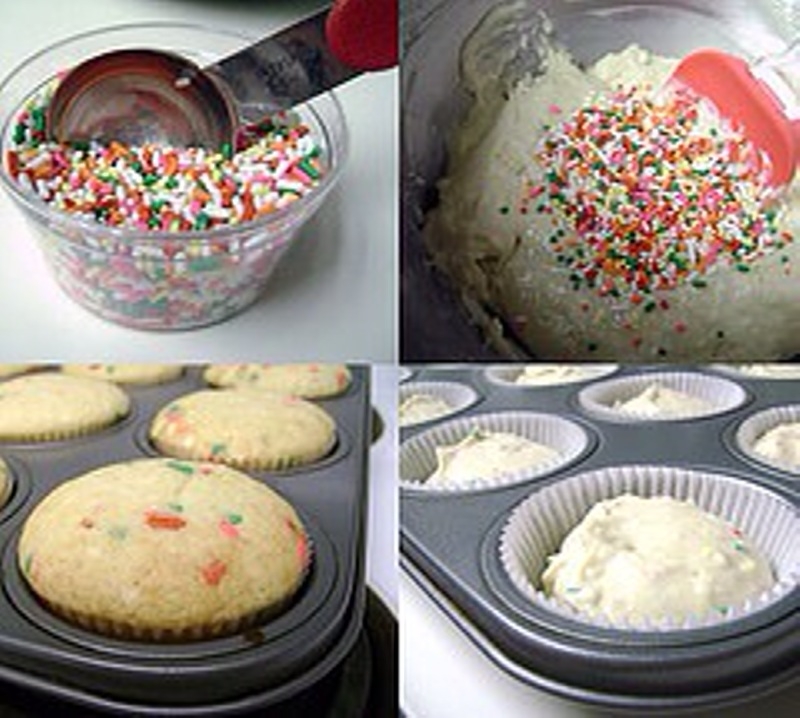 Instructions
To make cupcakes—
Preheat oven to 350F.
Line cupcake pan with paper liners.
In a large bowl, sift flour, baking powder and salt. Set aside. In a stand mixer, fitted with flat beater, beat the sugar and butter until well combined, about 2-3 minutes. Add egg and egg white, one at a time, beating on low.
Then add vanilla. Gradually add flour mixture in 3 additions, alternating with milk in 2 additions, ending with the flour mixture. Fold in rainbow sprinkles.
Fill cupcake liners about 1/2-2/3 full. Bake for about 17-20 minutes or until a toothpick inserted in the middle comes out clean. Remove from pan and cool completely on a wire cooling rack before frosting.
To make buttercream—
In a stand mixer, fitted with flat beater, beat butter until creamy, about 2-3 minutes. Add 5 cups of sifted powdered sugar, milk, and vanilla, beat until combined. Add more powdered sugar until you get to the consistency you want.
[NOTES: I think I added about 6-1/2 cups, give or take a few tbsp, to get the consistency I wanted. If its too stiff, you can add a little more milk.]
Frost with vanilla buttercream and garnish with more rainbow sprinkles.
ENJOY!